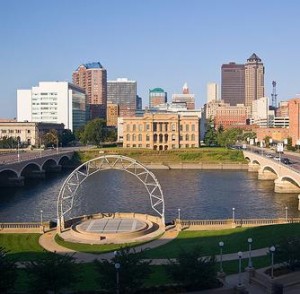 Des Moines is the capital of Iowa and the most populous city in the state. It was incorporated on September 22, 1851, as Fort Des Moines which was shortened to "Des Moines" in 1857. It is named after the Des Moines River, which may have been adapted from the French Rivière des Moines, literally meaning "River of the Monks."
The five-county metropolitan area is ranked in the top 100 in terms of population in the United States with roughly 600,000 residents; according to a recent estimate by the United States Census Bureau.
Des Moines has been ranked on these fine lists:
Also Greater Des Moines is continually recognized for its growth and development in many publications. According to the United States Census Bureau, a Des Moines suburb (Ankeny) is one of the top 5 fastest growing cities in the nation.
Des Moines is also a major center for the insurance industry and has a sizable financial services and publishing business base. In fact, Des Moines was credited with the "number one spot for U.S. insurance companies" in a Business Wire article. The city is the headquarters for the Principal Financial Group, the Meredith Corporation, Ruan Transportation, EMC Insurance Companies, and Wellmark Blue Cross Blue Shield.
Other major corporations such as Wells Fargo, ING Group, Nationwide Mutual Insurance Company, Marsh, Monsanto and Pioneer Hi-Bred have large operations in or near the metro area.
Even tech giants such as Facebook, Microsoft, and HP have established facilities in the Des Moines metro in recent years.
Des Moines is also an important city in United States presidential elections as the capital of Iowa, which is home to the Iowa caucuses. The Iowa caucuses have been the first major electoral event in nominating the President of the United States since 1972. Hence, many presidential candidates set up campaign headquarters in DSM. A 2007 article in The New York Times stated, "if you have any desire to witness presidential candidates in the most close-up and intimate of settings, there is arguably no better place to go than Des Moines."
And that's just the tip of the iceberg for this incredible city. Check out our list of attractions and things to do in Des Moines while you are here.
Partial Source: Wikipedia Des Moines, IA